Gulf Coast Medical Center is a 218-bed acute care hospital located in Panama City, FL. Our more than 400-member medical staff and more than 1,000 employees work hard to ensure our patients receive the highest quality of care every day. Their efforts have resulted in national accreditations for: Chest Pain Center, Total Joint Replacement, Peripheral Vascular Disease, Spine, Stroke and Wound Care. Other services include Maternal Fetal Medicine for high-risk pregnancies, Level III Neonatal Intensive Care Unit, Pediatric Intensive Care, Pediatric Cardiology, and Telemedicine services.
Gulf Coast Regional Medical Center, located in Panama City, Florida is the Bay Area's only neonatal intensive care unit (NICU), which includes a 4-bed pediatric intensive care unit and 28-bed neonatal intensive care unit. Due to this responsibility of handling the majority of the Bay Area's neonatal emergencies and needs, the NICU must have the necessary medical equipment, at all times, for treating and caring for the babies and children in the area.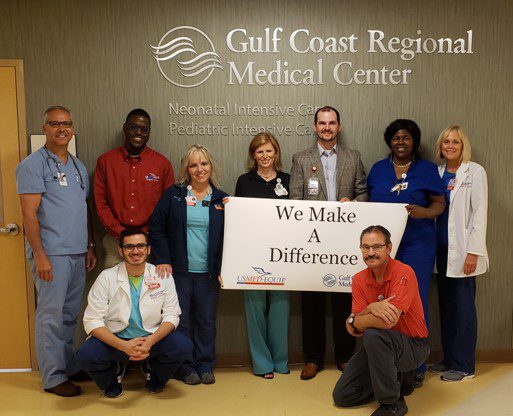 Mr. Dale Quincy, Supply Chain Director had been experiencing frustration with his current and previous MME rental providers. They could not provide the equipment when he needed for the hospital, especially in times of short supply and high demand. The MME rental providers he was currently using and others he had used in the past had not be able to deliver the equipment he requested either due to low inventory, or within the time frame needed, leaving him frustrated with their lack of resources and poor customer service. "[Other providers] don't have enough inventory. They don't pick up the phone or respond to an email. They simply don't have the resources to meet our needs. After 40 years as a nurse, the worst thing is to reach for something your patient needs and it not be there. Equipment is a big deal," Quincy said.
During Hurricane Michael, a pivotal time when Mr. Quincy needed NICU giraffe beds because of babies being transferred to the NICU, his current MME rental provider was out of stock and could not provide the essential equipment until days later. He called US Med-Equip business development representative Charlie Dykes who had been visiting and checking in with him regularly. Charlie was able to locate the Giraffe beds and the US Med-Equip operations team jumped into action to deliver the beds within hours, that afternoon. "US Med-Equip staff is always friendly, knowledgeable in knowing exactly what we need, communicate well and often, and deliver on time every time" Quincy said.
The Gulf Coast Regional Medical Center NICU was able to effectively and efficiently treat and care for the increased number of babies being brought to the NICU during Hurricane Michael.
Mr. Quincy, being so impressed with Charlie Dyke's rapid response to his needs and US Med-Equip's robust equipment inventory, speedy delivery service, and knowledgeable and professional customer service representatives decided to move his business to US Med-Equip, naming US Med-Equip as their 1st call and partner for MME rental needs.
"They go out of their way to take care of us," Quincy said. "They are true partners. I can't say enough about the overall experience." I would recommend US Med-Equip to anyone, without a doubt, without any reservation.
– Dale Quincy, Supply Chain Director, Gulf Coast Medical Center

Faster Service
US Med-Equip's 2-hour (+drive time) commitment has dramatically improved the time Gulf Coast Medical Center receives its MME rental orders. "US Med-Equip is responsive and has the inventory that we need, when we need it" said Quincy.

Reliable, Patient-Ready Equipment
Mr. Quincy stated that their previous provider(s) did not always deliver clean and working, patient-ready equipment.

Better Customer Service
Mr. Quincy remarked that US Med-Equip's customer service representatives are "knowledgeable and communicate well" and "deliver!"

Peace of Mind
When he orders equipment, he doesn't have to worry or follow-up with US Med-Equip. He knows the equipment will be available and delivered on time.

Intact Reputation
Having a reliable MME rental provider that can deliver the right equipment at the right time, according to Mr. Quincy, helps keep the hospital's good reputation intact. "The worst thing that could happen is having to transfer a patient because you don't have the equipment to treat them" Quincy said.

Trusted Partner
Mr. Quincy stated that he considers US Med-Equip a "true partner" and he trusts his business development representative, Charlie Dykes, to help him make informed purchase decisions.