US Med-Equip offers a variety of new and refurbished medical equipment for sale to hospitals and medical facilities nationwide. From central supply, infusion, monitors and telemetry equipment to NICU, respiratory, furnishings, parts and more, let US Med-Equip help you manage the delicate balance of patient care with cost-efficient, patient-ready, quality-inspected medical equipment for sale.
Choose from a robust inventory of movable medical equipment for sale. Visit our online product catalog to request a quote. 
Rapid turnaround time; same-day shipment available on many items

Flexible, customized package deals

Purchase rental units on a 12- to 36-month term

USME provides all maintenance during term of agreement

Apply 25% of rental payments toward purchase of your rental units

Lease option with longer payout: 24- to 60-month terms

Turnkey maintenance options available

1-year repair or replacement warranty

Extended warranty option

Complete packages with accessories and/or software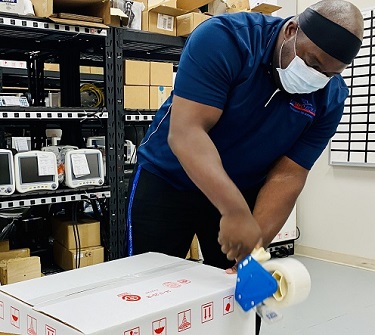 USME 6-Step Refurbished Equipment Process
USME's manufacturer-certified, factory-trained biomedical technicians put each device through a rigorous safety and quality control process to ensure it's patient-ready when you need it. Our equipment management process is ISO 9001:2105 certified, and all purchased equipment comes with a full one-year warranty.
At a time when patient safety and cost savings are of paramount importance, we realize the value refurbished equipment can bring to your facility. Rest assured with our extraordinary people and processes, your equipment will arrive in patient-ready condition and include a full one-year warranty.