Philips Medical Device Recall: Sleep & Respiratory Care
On April 26, 2021, Philips provided an important update regarding proactive efforts to address identified issues with a component in certain products of our Sleep & Respiratory Care portfolio.
At that time, out of an abundance of caution and based on available information, Philips advised of potential health risks related to sound abatement foam used in specific Philips Continuous Positive Airway Pressure (CPAP), BiLevel Positive Airway Pressure (BiLevel PAP) devices, and Mechanical Ventilators.
The company also indicated that analysis of potential health risks was ongoing, and that further information would be provided when available. As a result of extensive ongoing review following this announcement, on June 14, 2021, the company issued a recall notification (U.S. only) / field safety notice (International Markets) for specific affected devices.


The recall notification (U.S. only) / field safety notice (International Markets) informs customers and users of potential impacts on patient health and clinical use related to this issue, as well as instructions on actions to be taken. Additionally, the notification provides details of our robust and comprehensive repair and replacement program, to correct this issue as efficiently and thoroughly as possible.
The recall notification (U.S. only) / field safety notice (International Markets) advises patients and customers to take the following actions:
For patients using life-sustaining mechanical ventilator devices:
Do not stop or alter your prescribed therapy until you have talked to your physician. Philips recognizes that alternate ventilator options for therapy may not exist or may be severely limited for patients who require a ventilator for life-sustaining therapy, or in cases where therapy disruption is unacceptable. In these situations, and at the discretion of the treating clinical team, the benefit of continued usage of these ventilator devices may outweigh the risks.
If your physician determines that you must continue using this device, use an inline bacterial filter. Consult your Instructions for Use for guidance on installation.
For patients using BiLevel PAP and CPAP devic es:
Discontinue use of your device and work with your physician or Durable Medical Equipment (DME) provider to determine the most appropriate options for continued treatment.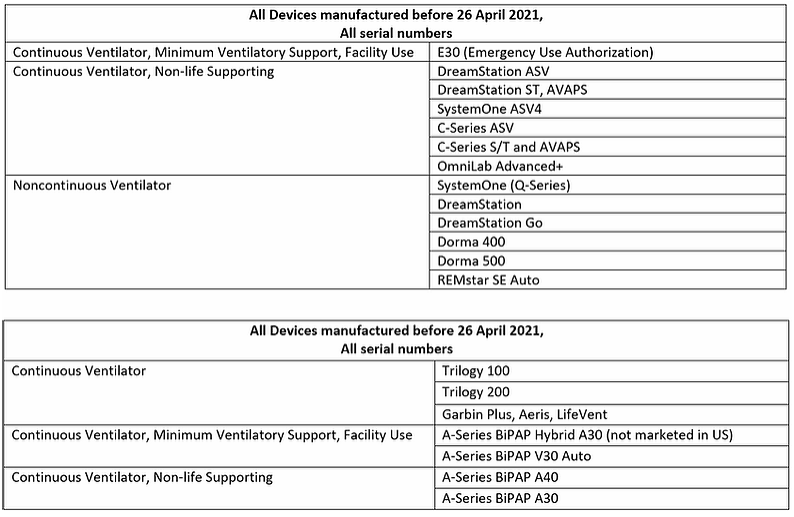 Philips has established a registration process that allows Patients, Users, or Caregivers to look up their device serial number and begin a claim if their unit is affected.
877-907-7508
For more information on this Field Safety Notification, please visit Philips.com/SRC-Update.
US Med-Equip (USME) partners with top hospitals across the nation to provide the highest quality movable medical equipment for patients in their care. USME, an Inc. 5000 Fastest Growing company, supplies quality-certified equipment rented, sold, maintained and managed using the latest technology to help healthcare providers focus on their patients' healing. Contact USME today for your critical care equipment rental needs, medical equipment rentals, or medical equipment for sale.