RFID Technology for Asset Tracking
US Med-Equip is changing the way hospitals manage their equipment by tagging medical equipment with passive RFID tags to track equipment without disturbing patients. 
RFID readers can locate tagged equipment up to 25 feet away.
The RFID reader emits radio waves that read the RFID tag and relay equipment information to the hand-held scanner.
Patients experience minimal disruptions as the waves bounce under closed doors, around corners and through walls.
The RFID scanner and tags do not interfere with other medical equipment and systems.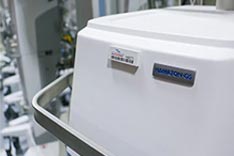 How does it benefit my hospital?
Quickly locate equipment that may be potentially missing, recalled or in need of preventative maintenance.
Increase utilization of hospital equipment leading to reduced rental needs.
Locate equipment which may be hidden from sight, such as in a drawer, closet, under a bed, locker, etc.
Fast identification of "wanted" equipment
Helps with PM compliance
Need a complete asset management solution for capital and rental equipment? Contact your USME representative to learn how we can help.